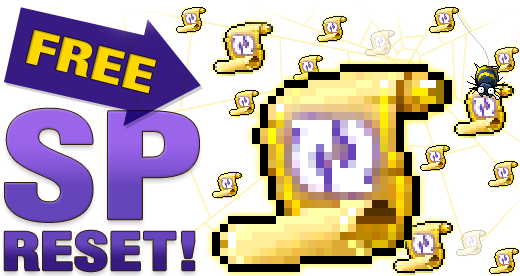 I hope people still visit here, even if it appears that no-one is posting anything.
Just an FYI, everyone thought that if you logged in on "the 11th" you would get a free skill reset, and details were basically that vague. Somewhere in a Nexon post the 11th was mentioned but that was about it.
Now, I direct your attention to:
http://maplestory.nexon.net/News/News.aspx?boardNo=100&contentNo=00AO3&pageIndex=1
Basically, starting tonight at 7pm ADST (Nexon's midnight), any character that logs on will receive a free SP Reset that will reset
ALL
of your skills (except for beginner skills) so that you can completely redistribute your SP. This will happen for every character that logs in any time for the next 7 days. But be warned: The SP Reset scroll you receive can only be used within 24 hours of obtaining it, so there's no point logging onto inactive characters or making new characters just to stock up, because the reset scrolls will vanish if you don't use then quickly.